Art, Visual Culture and the Israeli Occupation
Saturday 10th May 2008
10.00am – 5.00pm
Manchester Metropolitan University
A one-day interdisciplinary conference focusing on how artists and other visual practitioners have represented the Israeli occupation, and exploring relationships between visual culture and the politics of space in Israel/Palestine.
The conference will discuss the ways in which artists, photographers, and visual activists have produced images of different aspects of the occupation regime, or used visual practices to contest the domination of the Palestinians by the Israeli state. Speakers will also address how visual technologies and 'ways of seeing' have been structural to the occupation.
Lecture Theatre 303
3rd Floor Chatham Building
All Saints Campus
Manchester Metropolitan University
Map: www.mmu.ac.uk/about/locations/allsaints.php
Speakers
Larry Abramson, Artist/Shenkar College, 'Art of Camouflage: The Covert Politics of Abstraction in Israeli Visual Culture'
Sliman Mansour, Artist, 'Palestinian Art and the Occupation'
Wendy Pullan, University of Cambridge, 'Images and Artefacts of Boundedness and Mobility in Contested Jerusalem'
Anna Dezeuze, University of Manchester, 'Lines, Walls and the Politics of "Ambiguity"'
Simon Faulkner, Manchester Metropolitan University, 'Picturing the West Bank Wall'
The conference includes a tour of the 'Desert Generation' exhibition led by Larry Abramson.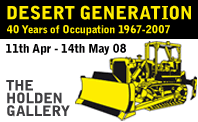 Registration
Tickets: £25/£10 students Cheques should be made out to 'Manchester Metropolitan University'.
To reserve a place or for further information contact: s.faulkner@mmu.ac.uk
Or fill out the
registration form and send it, accompanied by a cheque for the appropriate registration fee, to:
Simon Faulkner
Department of History of Art and Design
Manchester Metropolitan University
Righton Building
Cavendish Street
Manchester
M15 6BG