Exhibition Exchanges
2010
Art works from Faculty of Art and Design of MMU showed in the "Power of Copying – 2010 International Contemporary Design from Selected Art Academies" Exhibition in Xuzhou, China
An exhibition of works by twenty-two staff and students from Fashion and Textile and the School of Architecture of MMU, curated by Tongyu Zhou, it took part in the "Power of Copying – 2010 International Contemporary Design from Selected Art Academies" exhibition in Xuzhou Museum of Art in China. Tongyu Zhou, Philip Sykas and Nick Dunn also contributed papers to the publication of the exhibition. The exhibition was on for two months (May and June) in Xuzhou and received more than sixty thousand visitors. It was reported by mainstream Chinese media.
2009
The "State Legacy – Research in the Visualisation of Political History" Exhibition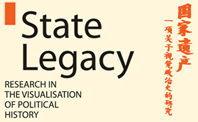 2nd April to 24th May 2009 held at Cornerhouse and The Holden Gallery, Manchester
19th September to 19th November 2009 held at OCAT, Shenzhen, China
Co-curated by Professor John Hyatt and Huang Zhuan, coordinated by Dr T Zhou and co-organized with OCAT of Shenzhen and Cornerhouse, Manchester, with support from Chinese Arts Centre and ARUP. It is a reflective Chinese contemporary art exhibition which pays tribute to the world's earliest industrialization in Britain and the era of Chinese industrialization 1950s to 1980s. The exhibition will also bring a collection of new works by five outstanding contemporary Chinese artists: Wang Guangyi, Lu Hao, Sui Jianguo, Zeng Li and Wang Jianwei. As such, this is to be an important exhibition of never-before-seen contemporary Chinese art.
A symposium of State Legacy Exhibition was held at Hexiangning Art Museum, Shenzhen on 16th December 2007. The topic was "Visual Legacy: Politics or Art History", 15 Chinese art critics, philosophers, artists, curators and researchers initiated a debate surround the topic. A second symposium will be held in Manchester in April 2009.
Guangzhou Academy of Fine Arts showed artwork from their lecturers and students at Holden Gallery in October 2009.
2008
The Asia Triennial Manchester 2008
Co-organized with the Manchester-based Asian Art Agency, SHISHA, Professor John Hyatt is leading the research for the UK's first ever Asian Art Triennial. This will take place in Spring 2008 in six major Manchester art galleries.
Paving projects are already underway. MIRIAD and the Faculty of Art and design played host to Pakistani artist Rashid Rana as he prepares work for a public art piece to be sited in Rusholme for the Triennial. The research is being framed by the root meaning of Asia being "where the Sun rises" and the root meaning of Europe being "where the Sun sets". The allusions in both MIRIAD and SHISHA's names to mirrors is being used to conceptualise a global cultural mirroring, a gazing into the mirror at ourselves through the eyes of the other. Find out more about SHISHA at: www.shisha.net
Tatton RHS shows 2008
2007
Art & Design Work from MMU • China Show
A touring show that has been successfully introduced MMU artists' and designers' work to Chinese audiences in Beijing, Xiamen and Guangzhou. In Guangzhou alone, the exhibition has received more than 20,000 visitors. It has also attracted broad media attention nationwide.
Keith Brown and Helen Felcey's Solo Shows at the Chinese European Art Centre (CEAC) in Xiamen University
MIRIAD has introduced MMU artists, Professor Keith Brown's and Helen Felcey's art work to Xiamen City. Keith Brown visited the Chinese European Art Centre to open his solo show and has given a lecture about his work to students and lecturers at the Art College of Xiamen University. They were joined by Professor John Hyatt who also gave a public lecture about his own research.
The Chinese Contemporary Printmaking Show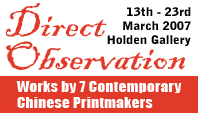 Curated by Dr T. Zhou, took place from 13th to 23rd March, 2007 in the Holden Gallery. The invited artists are Su Xinping, Zhou Jirong, He Kun, Lu Zhiping, Tang Chenghua, Zhang Guanghui and Chen Qi.
More details at www.holdengallery.mmu.ac.uk/directobservation.php
It was also shown in the Oriental Museum in Durham from September to November. Dr Zhou gave a gallery talk about the printmakers and their prints in the Museum on 19th September.
Tatton RHS shows 2007